About Us
Riding Warehouse, affectionately called "RW" by its devotees, is Your One-Stop Online Tack Shop for English, Western and Endurance riders. Located in San Luis Obispo, California, Riding Warehouse offers a wide selection of quality equine products including horse tack, riding apparel, horse trailer and stable equipment, plus gifts for horse lovers. RW everyday mainstays are: Free Shipping & Free Return Shipping (for a year!), Guaranteed Lowest Prices, and Unbeatable Customer Service.
The RW Creed tells you more about the heart and soul of Riding Warehouse and its staff. Get to know each of our crew members' backgrounds and horse interests on our blog's RW Crew Bios page. We welcome you to engage with us in-store, via our website (try live chat!), or social outlets - say 'hello' and share a photo with us on facebook!
Happy Riding!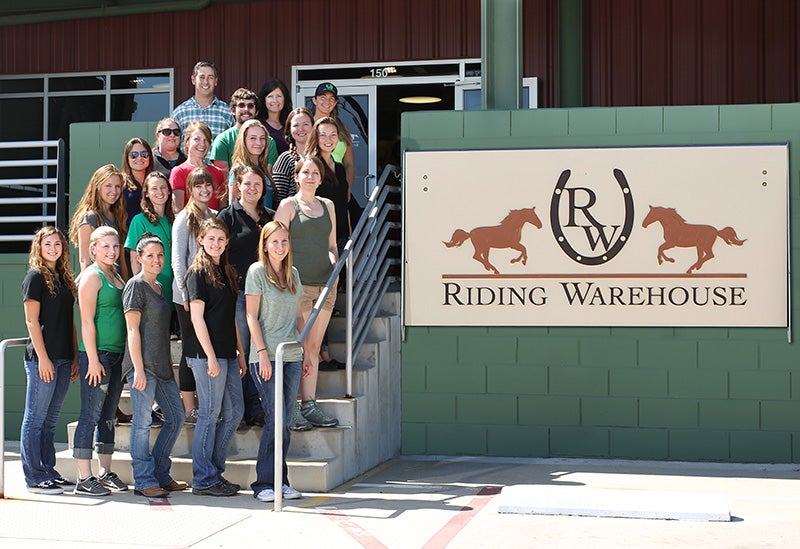 RW Creed
creed : "a set of beliefs or aims that guide someone's actions."
We Believe...
"Mom & Pop" can be emulated on the web. We care about you and your horses as if you were our neighbors. It's evident in the big and little things we do every day, such as walking to our warehouse to measure an item for you, or combining your orders to save you money (orders over $50 ship free). It's "mom & pop" with the convenience of e-commerce.
Communication is key. We offer immediate access at every contact point to living, breathing horse-loving people. Online, you can expect detailed descriptions and to-the-minute disclosure of inventory status and estimated days to shipment for every item listed. A friendly crew member communicates necessary shipment updates to you one-on-one. We would never spam you or inundate your inbox - you must opt-in for our promotional emails (3 per month).
Loving horses means giving back. We provide accessible, affordable horse products and enthusiastically support local and national horse groups and rescues, as well as community work projects benefitting equestrians.
Trust is earned. We carefully monitor competitors and adjust to the lowest prices to honor our Lowest Price Guarantee. Free return shipping for one year, no-questions-asked, is one more way for us to earn your trust.
Your feedback is priceless. We listen attentively to every review & feedback response and act on them with urgency, making positive changes for the individual as well as long-term policy improvements.
"We Ride What We Sell" We use our products. All of them! We use that product knowledge to respond to your inquiries and we love to share about our personal favorites.
Experience is a source of knowledge. We have 550 years combined horse experience among our crew members, with every major discipline represented.
Our crew is a valued investment. We offer career-focused advancement opportunities & benefits for all crew members. Read about the career paths of our crew members..
American-made is smart. U.S. manufacturing supports the American worker and uses fewer resources. The U.S. Environmental Protection Agency demands adherence to strict standards compared to many top-producing countries. Easily shop our Made-In-USA products.
Green is good. Actively implementing workplace practices that have a positive impact on the health of our crew while saving resources and promoting renewable, clean energy.
We believe in putting the RW Creed into action every day. Your Satisfaction is Guaranteed!