Trio Ranch 90 Proof Rail Clamp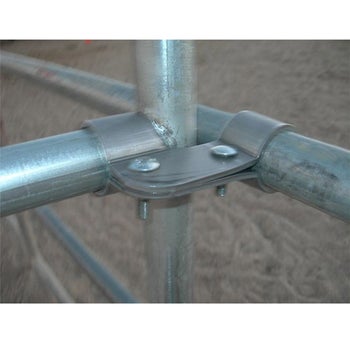 The handy Trio Ranch 90 Proof Rail Clamp gives horse enthusiasts and ranch owners an easy way to securely attach chain link or corral panels to create a perpendicular intersection.
Constructed from heavy duty galvanized steel, this versatile fence clamp secures a horizontal to horizontal connection using a 1 5/8" - 1 7/8" pipe and allows attachment at any place along the panel, meaning you can make your corrals any size you want without having to match up to another vertical post.
Features:
Fast, Easy, & Efficient!
7 Gauge Hot Dipped Galvanized Steel
Guaranteed Rust-Free Lifetime Use
1 5/8" - 1 7/8" Pipe Connection
Secure & Easy to Use Carriage Bolts
Maximizes Versatility of Pipe Corral Panels
Trio Ranch keeps their focus on supplying high-quality, unique patented products for ranch and pet owners across the globe and has dedicated their company to serving the needs of their customers with the utmost reliability.
Specs:
5.5" x 2" x 4"
Hardware Included

MADE IN THE U.S.A!
Other Items in Trio Ranch
Customer Reviews