Toklat Woolback Endurance Saddle Pad Contoured

MSRP: $160.95




Our Price: $129.95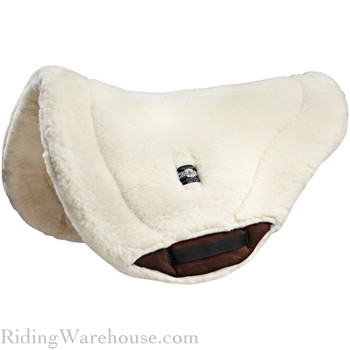 view large
Buy 2 or more for $111.95 each.

Our unique Toklat Woolback Barrel Endurance Contoured Saddle Pad is our most popular style of pad and easily accommodates a wide variety of saddle styles!
Exclusive Riding Warehouse design – you won't find this pad anywhere else! Building from Toklat's renowned foundation, we've taken great care to research and customize this saddle pad with a contour top line to accommodate the natural shape of your horse's back as well as suede wear leathers and nylon girth straps, to add longevity and practicality to your pad.
Approximate Pad Measurements:
Seat Length: 28"
Flap End to Flap End (Side to Side): 38"
Cantle/Seat Width: 20"
Flap Width: 18"
We recommend you compare the measurements given to the underside of your saddle to ensure a proper fit.
Toklat's double-layer 100% knit wool fleece material is specifically designed to stand up to the harsh rigors of everyday training and distance trail riding. This extra heavy-duty, machine-washable virgin wool pile fabric provides the ultimate protection and comfort for your horse's back. And, it is superb for long hours of riding when all the advantages of natural wool are of vital importance!
Natural - Virgin wool fibers provide comfort for your horse - wool is considered by the medical profession to be hypoallergenic.
Absorbent - Actually absorbs and wicks away moisture. Keeps your horse's back moist but not wet.
Breathes - Wool is very porous which allows for continuous air circulation and release of moisture during use.
Does Not Slip - Has minute "barbs" that grip to the hair to keep the saddle from slipping.
Tough - Natural resiliency reduces wear and provides years of soft, cushioned protection for your horse.
Looks Great - The unique structure of the fibers resists dirt penetration.

Toklat Woolback pads are easy to clean! Simply machine wash with horse shampoo and cool water on gentle cycle and hang to air-dry (no direct sun) or tumble/fluff dry (no heat). If you wish to remove hair during shedding season or simply give the fleece more loft after heavy use and washing, a wire pad groomer makes re-fluffing easy!
For easy fluffing and cleaning, try the Andis Wire Brush!

MADE IN THE U.S.A!