Toklat CoolBack Fleece Western Breast Collar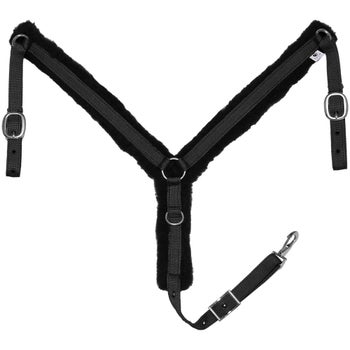 Our Price:

$55.95
MSRP: $70.00 - You Save: $14.05
The Toklat Coolback Western Breast Collar features the finest synthetic fleece on the market! Toklat's 100% knit polyester fleece material is specifically designed to stand up to the harsh rigors of everyday training and distance trail riding. The extra heavy-duty, machine-washable fleece provides the ultimate protection and comfort for your horse and is superb for long hours of riding, and is available in many fun colors!
| Size | Shoulder Straps | Tug Straps | Girth Strap |
| --- | --- | --- | --- |
| Arab/Cob | 15" | 8"-11" | 19"-22" |
| Horse | 17" | 10"-12.5" | 23"-26" |
Features:
100% Coolback Fleece
Heavy Duty Nylon Web
Stainless Steel Hardware
Machine Washable
1" Nylon Straps (2½" including fleece)
The tug straps and the strap to the girth are completely adjustable. Best for use with a western or western-style endurance saddle that has rings at the pommel.

For sizing and further information see the "Details" tab!

MADE IN THE U.S.A!
Technologies:
Coolback® Fleece is without exception the finest 100% polyester fleece fabric on the market. It contains a special combination of resilient polyester fiber and denier to provide the best in protection, durability, and easy care. Coolback saddle pads are versatile for all riding disciplines, provide excellent cushioning, won't mat or slip, and offer the finest in value and performance.
Protection - Fleece fibers provide comfort and protection for your horse.
Absorbent - Absorbs and wicks away moisture, keeping your horse moist but not wet.
Breathes - Fleece is very porous which allows for continuous air circulation and release of moisture during use.
Tough - Natural resiliency reduces wear and provides years of soft, cushioned protection for your horse.
Looks Great - The unique structure of the fibers resists dirt penetration and the colors add a splash of fun to any tack!
All Toklat Coolback® pads are dyed in the USA, using ecologically sound methods and materials.
Care Suggestions: Machine wash with horse shampoo, dry on normal settings.
Other Items in Toklat Breast Collars & Breastplates
Customer Reviews