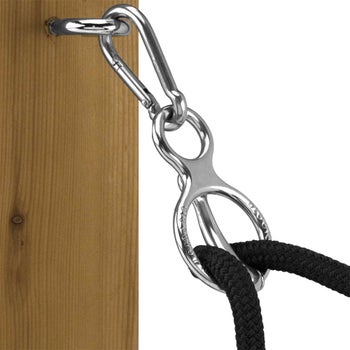 view large
Blocker Knotless Horse Tie Ring II
Our Price:

$25.95
MSRP: $31.00 - You Save: $5.05
Buy 2 or more for $22.95 each.

The Blocker Knotless Horse Tie Ring II prevents injury to you or your horse. When a solid-tied horse spooks or falls, it can panic... then something breaks and/or the horse injures itself.

The Blocker Knotless Tie Ring works with the horse. When the horse pulls hard on the lead rope, some of the rope slips through the tie ring releasing pressure and the source of panic. If the horse falls in a trailer, the Blocker Tie Ring allows the horse to pull enough slack to get itself standing again.
Chrome plated.
Other Items in Toklat Miscellaneous Gear
Customer Reviews
Comments: These are fantastic!!! I have one but need to get more. I use it for every horse but they are really great for the young horses that you always worry are going to hurt themselves. I snap mine to the trailer tie ring and move it from side to side. And if I travel with anyone I grab it and take it with me.
From: Karen - Parma, ID, U.S.A.

Comments: I wanted something with some give for my 3 yo. She has pulled on it a few times and it has given. Once while tied to the trailer she pulled enough to get loose, which I thought was a good thing on that particular day. It prevented a wreck. The chrome does rust if left outside. I'd like another one just for the trailer since I regularly forget to take one with me from the cross ties.
From: Sheila Ward - California, USA
Comments: I have a number of these and prefer them over any other type of safety ring. Easy to use, easy to move and safe. I also use them clipped to my Swivel Knot Eliminator for my high line.
From: Maranda - Baton Rouge, Louisiana, USA
Comments: Fabulous invention! I bought several for my trailer and all thru my barn!
From: Kristen Banks
Comments: I love my Blockers! I originally bought one for my horse trailer...fell in love and bought more for my barn and hitching rails. Fabulous product!
From: Rosa
Comments: This is an essential item for every horse owner. My horse does not typically pull back, but almost killed me one day when he was tied to our trailer and something spooked him. He pulled back, came to the end of his lead and lunged forward with all his might. He missed me by about 4 inches. Luckily, we were at a clinic and the trainer recommended a blocker ring. We now have 5 (one for each horse) and use them in the trailer, on the side of the trailer and even in the barn for our drafts.
I would never tie any horse without a blocker ring.
From: Lorie Hartman

Comments: A definite MUST HAVE even if your horse doesn't pull back. I use these all over my place and stow a few for the trailer too. It is a safety item and around horses, you can never be too safe.
From: Lauren Horn