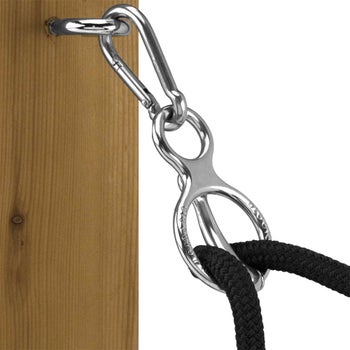 view large
The Blocker Horse Tie Ring II - Chrome Plated
Our Price:

$24.95
MSRP: $31.00 - You Save: $6.05
Buy 2 or more for $22.95 each.

With a revolutionary design, The Blocker Horse Tie Ring II- Chrome Plated offers a safe and humane method to tie your horse. Designed as a support system rather than a restraint system, the Blocker Tie Ring allows the horse to pull slack in their lead rope during panic to release the pressure and source of panic, and therefore minimize the threat of injury to both horse and handler.
The unique Blocker Tie Ring can easily be mounted to any tie ring with the convenient Quick Snap carabiner clip and then moved to different locations just as easily! Simply loop the lead rope around the hinged center tongue, which is held in place with the reliable Mag-Loc magnet feature, to create a safe and stable tie foundation for your horse.
Features:
Convenient, Safe & Humane
Easy-to-Use, Moveable Design
Allows Horse to Pull Slack to Eliminate Risk of Injury
Chrome Plated
Reliable Mag-Loc Keeps Tongue in Place
Convenient Quick-Snap Carabiner
Perfect for Tying & Trailering
Optional installation hardware included.
Other Items in Blocker Horsemanship Products
Customer Reviews
Comments: Life saver (literally) if you have a horse with a pullback problem. I alternate between this and the clip, love them both. Also convenient if you're moving your horse around, you don't have to untie and tie, you just clip!
From: Chelsea - Seattle, WA, U.S.A.
Comments: I finally bought some blocker rings after having to replace two of the horse tie ups on the trailer, when my mare blew up and pulled back (breaking them). The tie rings have worked great on the outside of the trailer. I also haul my horses inside with these tie rings, as it doesn't allow the horses to be "trapped" by their lead ropes. Very easy to move these tie rings around with the clip that is included. I've used many of these in my barn tie racks as well, and they work great when you're training a younger horse to stand still at the hitching post. Less traumatic all around.
From: Jennifer - Eckert, CO, USA

Comments: I have really enjoyed this tie ring. I like that its removable and I can take it with me where ever we go. I use it mostly in the trailer when trailering and then on the outside of the trailer when tied.
From: Kristine - Cle Elum, WA, USA
Comments: These are fantastic!!! I have one but need to get more. I use it for every horse but they are really great for the young horses that you always worry are going to hurt themselves. I snap mine to the trailer tie ring and move it from side to side. And if I travel with anyone I grab it and take it with me.
From: Karen - Parma, ID, U.S.A.

Comments: I wanted something with some give for my 3 yo. She has pulled on it a few times and it has given. Once while tied to the trailer she pulled enough to get loose, which I thought was a good thing on that particular day. It prevented a wreck. The chrome does rust if left outside. I'd like another one just for the trailer since I regularly forget to take one with me from the cross ties.
From: Sheila Ward - California, USA
Comments: I have a number of these and prefer them over any other type of safety ring. Easy to use, easy to move and safe. I also use them clipped to my Swivel Knot Eliminator for my high line.
From: Maranda - Baton Rouge, Louisiana, USA
Comments: Fabulous invention! I bought several for my trailer and all thru my barn!
From: Kristen Banks
Comments: I love my Blockers! I originally bought one for my horse trailer...fell in love and bought more for my barn and hitching rails. Fabulous product!
From: Rosa
Comments: This is an essential item for every horse owner. My horse does not typically pull back, but almost killed me one day when he was tied to our trailer and something spooked him. He pulled back, came to the end of his lead and lunged forward with all his might. He missed me by about 4 inches. Luckily, we were at a clinic and the trainer recommended a blocker ring. We now have 5 (one for each horse) and use them in the trailer, on the side of the trailer and even in the barn for our drafts.
I would never tie any horse without a blocker ring.
From: Lorie Hartman

Comments: A definite MUST HAVE even if your horse doesn't pull back. I use these all over my place and stow a few for the trailer too. It is a safety item and around horses, you can never be too safe.
From: Lauren Horn