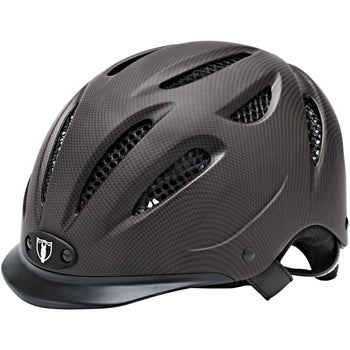 view large
Tipperary Sportage 8500 Helmet
Our Price:

$68.95
MSRP: $74.95 - You Save: $6.00
With an ergonomic, equestrian-specific design, the Tipperary Sportage 8500 Helmet sports a snug low-profile fit and features an innovative and completely unique drop-back shell to cradle the skull to maximize helmet retention and stability. The sleek Sportage 8500 has been our #1 selling helmet for years!
A unique rear padding system provides a custom fit and an easily adjustable nylon harness system reinforced with supple natural leather guarantees the ultimate combination of comfort and protection.
Features:
Extreme Ventilation System
Moisture Control Padded Lining
Durable ABS High-Impact Plastic Shell
Sleek & Sporty, Low-Profile Design
Reflective Rear Band for Low Light Visibility
Durable & Flexible Contour Front Visor
ASTM/SEI Certified Safety Standards
Lightweight & Comfortable - Just 17 Ounces!
See the "Details" tab as well as the Helmet Sizing and Video links for further information!
Certifications:
SEI Certified
ASTM F1163-04A
CE European EN 1384
The Tipperary Sportage 8500 Helmet offers a unique adjustable padding system that allows a customizable fit for every head shape and size. Use your personal measurements to compare to the size chart below and determine the best size option for you.
| Helmet Size | Head Circumference | Cap Size Range |
| --- | --- | --- |
| XS | 19 1/2" - 19 7/8" | 6 1/4 - 6 3/8 |
| SM | 20 1/4" - 20 3/4" | 6 1/2 - 6 5/8 |
| MD | 21 1/8" - 21 1/2" | 6 3/4 - 6 7/8 |
| LG | 21 7/8" - 22 1/4" | 7 - 7 1/8 |
| XL | 22 5/8" - 23 7/8" | 7 1/2 - 7 5/8 |
Weight: 17 oz.
Other Items in Tipperary Helmets

Tipperary T-Series T4 Helmet
MSRP: $249.95
Our Price: $198.95


Tipperary T-Series T2 Helmet
Our Price: $198.95

Tipperary Sportage 8500 Helmet
MSRP: $74.95
Our Price: $68.95
Customer Reviews
Comments: This is an awesome helmet! The tan color matches my strawberry roan nicely. The padding on the inside makes this helmet very comfortable and secure. I like how the helmet covers the back of my head more then normal helmets. Overall, this is a great helmet. I would recommend it to any rider. :)
From: StrawberryMare - Sacramento, CA, U.S.A.

Comments: Nice! Very airy. Fit is okay - I used a lot of pads to make it snug. I'm a 7, and I got a medium. I pair my helmet with the DaBrim visor, and I always get compliments!
From: Susan - Huntington Beach, CA, U.S.A.

Comments: Love it! I'm a ride and tier and need my helmet to be super comfy for 25 miles of riding and running. Needs to provide venting! This one does! Didn't even notice it while running :)
From: Korinne - Vienna, Virginia, U.S.A.
Comments: Love this helmet. Great colour and style. The fit is excellent. I like how it has extra coverage down the back of the skull. The first time I put it on it was like it was meant for my head. The vents are a nice added feature for keeping your head cool in warm temperatures.
From: Rebecca - Ontario, Canada
Comments: I recently bought this helmet in search of one that has a lot of air flow. This one is great for riding in high heat in south Louisiana.
From: Nelly, Slidell, Louisiana, U.S.A.
Comments: Great helmet! It fits well, has great ventilation, and looks great especially for trail/endurance. Cocoa brown is subtle and sleek. The helmet's brim is pretty small so add a larger brim if you want more shade. The outside is surprisingly scratch-resistant; I've gone under several branches and there are no marks. All in all a great helmet!
From: Elsa, California, U.S.A.
Comments: I just received my Tipperary Sportage 8500 Riding Helmet today. I was really worried that I had made a mistake buying it over the Internet because my skull measured 53.4cm, somewhere between Small and Medium size. I ordered the Small and it fits perfectly, snug and secure. I'm sure the padding is going to loosen up a bit after wearing it for a while so this is just right. I feel safe and secure in this helmet. It was delivered quickly. So far I am very pleased with Long Riders Gear (Riding Warehouse) service.
From: Joy Slezak

Comments: Nice helmet...looks good and fits great. I measured my head and ordered the appropriate size and it fit me perfect. It's super comfortable and doesn't have that bobble-head look like other helmets. I'm a male in his late forties and really didn't want to mess with a helmet while riding horses both for image and comfort. I recently attended a trail riding convention and sat through some riding injury seminars which changed my attitude. The Docs and EMT folks made me think more about the loss to my family and how easy brain injuries can occur. Bottom line, this helmet is a great value. I've wore it for many miles in all climates with no complaints. Most importantly: You can wear this helmet and improve your safety without looking like a total dork.
From: Glen Tomlinson

Comments: I have ridden with a ball cap all my life, the Tipperary helmet is better because it is vented, just as comfortable. Did it for the grandkids.
From: Dawn Foster

Comments: Have ridden in helmets my whole life this is the most comfortable and attractive (less bubble head) so far, but the visor, which is very small, provides little to no sun protection. I am purchasing the Da Brim.
From: Ava Dantis

Comments: Definitely the most comfortable helmet I've had and looks good (even if I say so myself).....doesn't look like a giant mushroom on my head. Love it!
From: Sheryl Aitken

Comments: This helmet is amazing!!! I live in Florida so all riding gear must be worn with high heat in mind. It has huge vents and I can actually feel a breeze flowing through it. It is so light you can hardly feel it on your head. My only problem was I was at the high end of the fit for the large but I bought it anyway and with the extra foam pads they include I was able to adjust it perfectly. I combined it with the new Da Brim and it is a shady ride for me :0)
From: Beth Moran
Comments: I'm hitting the 5 year mark on my current Tipperary. You'll be hearing from me with an order...may just have to try the white. I'm just happy to have vents!
From: Sue Ashley
Comments: Great helmet, even for my large, oblong head. I used to have to wear a bike helmet because I could not find an equestrian helmet large enough that wouldn't give me a splitting headache within minutes. The Sportage 8500 is the ticket! I was able to use the extra padding that's included to fill in the sides since my head is oblong shaped. So the fit is very customizable. Thank you Tipperary, for finally making this helmet in XL!
From: Shirley, Michigan, U.S.A.
Comments: I love these helmets! My previous one, I literally wore it out! (shell came completely apart from the inside). When I placed my order I just ordered the same size as my old one, but they have apparently changed the sizing a little. I had to exchange it for the next size up, so be sure to measure and go by the new sizing chart. I guess the size difference is because the inside is made a little different than my last one. This one actually has changeable pads to get that custom fit, the old one did not. I really like how these new ones have more vents on top, and a thinner liner, which definitely keep your head cooler! My favorite thing about this helmet not only is the low profile, but the drop down back that hugs your head. A great helmet for sure!!
From: Ami Miller-Smith, West Virginia, U.S.A.