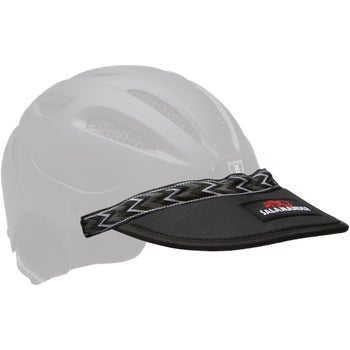 view large
Salamander Beak Helmet Visor
Our Price:

$15.95
MSRP: $17.50 - You Save: $1.55
Buy 2 or more for $13.50 each.

Our long-time customer favorite Salamander Detachable Helmet Visor is the answer to your helmet visor needs!
Lightweight, and known affectionately as the "Beak," this visor attaches with a long, ultra-secure Velcro strip to the front of your riding helmet for pay-no-mind-to-the-wind, carefree riding! This cool visor provides more sun protection and is a safer alternative to the plastic visor on your helmets.
Constructed of closed-cell foam sandwiched in tough 600-Denier poly cloth, this visor has a sporty look you'll love with an ample maximum three-inch depth to keep you in the shade. Machine washable.
While the velcro does last for quite a while, occasionally it is useful to have a Visor Velcro Replacement Kit to refresh the Velcro after years of use, or outfit two helmets to be able to interchange one visor between them.

MADE IN THE U.S.A!
Other Items in Salamander


Salamander Visor Replacement Velcro Kit
MSRP: $4.00
Our Price: $3.25


Salamander Beak Helmet Visor
MSRP: $17.50
Our Price: $15.95
Customer Reviews
Comments: I have tried four different visor styles purchased from Riding Wearhouse. This one works great but the main thing I don't like about this visor is the Velcro stickers used to install the visor. It is a great product for the price if you don't mind having the Velcro stickers permanently on your helmet. It comes in a variety of colors so you can swap them out if you want to. I currently have the orange visor on my spare helmet which is great for hunting season. Also, it stays put in the wind and at a gallop.
From: Barbara - Woodbridge, Virginia, USA
Comments: What a great invention. I use it with my Tipperary helmet, which has hardly any visor, and it makes my rides more enjoyable. Offers more sun protection than a regular baseball cap, and so much more sturdy than other visors. I like that I can take it off if I don't need it. You have to be careful that your helmet doesn't get too hot, otherwise the glue on the adhesive Velcro can get a little funny.
From: Martha - Templeton, California, USA
Comments: I absolutely love this visor. It stays put on the windiest days and long gallops. I completely forget it's there but it does its job blocking the sun. It is easy to apply to the helmet and looks nice too. I have had several compliments from friends I ride with. It's not so big and bulky as some of the others I have seen. I also love my free t-shirt I received from being on hold too long!
From: Rita - Pylesville, Maryland, USA