Salamander Beak Helmet Visor

SALE $15.95




Was $17.50, You Save $1.55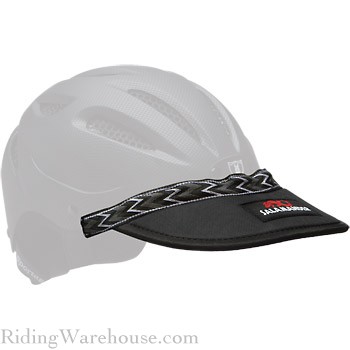 view large
Buy 2 or more for $13.50 each.

Our long-time customer favorite Salamander Detachable Helmet Visor is the answer to your helmet visor needs!
Lightweight, and known affectionately as the "Beak" this visor attaches with a long, ultra-secure Velcro strip to the front of your riding helmet for pay-no-mind-to-the-wind, carefree riding! This cool visor provides more sun protection and is a safer alternative to the plastic visor on your helmets.
Constructed of closed-cell foam sandwiched in tough 600-Denier poly cloth, this visor has a sporty look you'll love with an ample maximum three-inch depth to keep you in the shade. Machine washable.
While the velcro does last for quite a while, occasionally it is useful to have a Visor Velcro Replacement Kit, or outfit two helmets to be able to interchange one visor between them.

MADE IN THE U.S.A!
Comments: What a great invention. I use it with my Tipperary helmet, which has hardly any visor, and it makes my rides more enjoyable. Offers more sun protection than a regular baseball cap, and so much more sturdy than other visors. I like that I can take it off if I don't need it. You have to be careful that your helmet doesn't get too hot, otherwise the glue on the adhesive Velcro can get a little funny.
From: Martha - Templeton, California, U.S.A.
Comments: I absolutely love this visor. It stays put on the windiest days and long gallops. I completely forget it's there but it does its job blocking the sun. It is easy to apply to the helmet and looks nice too. I have had several compliments from friends I ride with. It's not so big and bulky as some of the others I have seen. I also love my free t-shirt I received from being on hold too long!
From: Rita - Pylesville, Maryland, U.S.A.