Riding Warehouse Gift Cards
The Perfect Gift for Any Horse Lover
Your dollars will go much further at Riding Warehouse than any other
online tack shop, because we guarantee all of our prices to be the
lowest. Our One-Year Free Return Policy is a gift in itself, assuring the gift card recipient of guaranteed happiness!
Simple and convenient to order, you can either select a physical gift card in $10, $25, $50, $100, $200, or $500 denomination, or send it electronically in any dollar amount straight to the recipient's email inbox!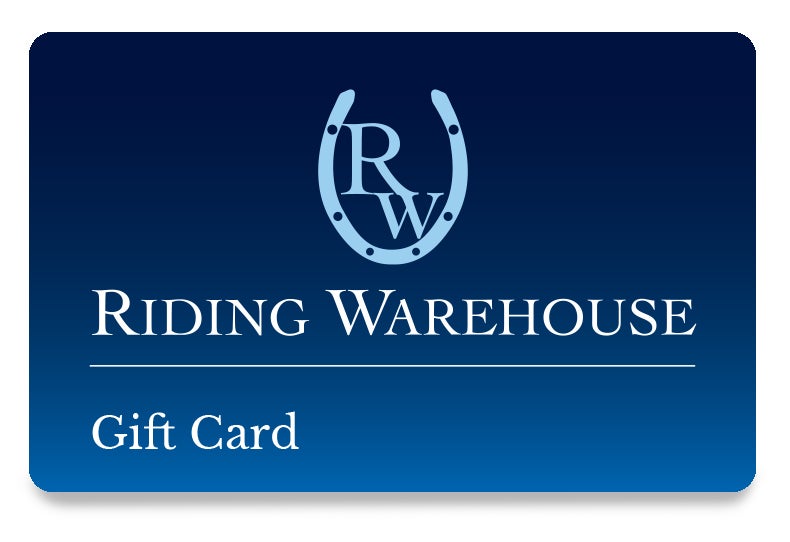 Send a Gift Card by Mail
Select the gift card you'd like to purchase using the drop down menu to the right. All Gift Cards ship free within the contiguous U.S.!
Send an Electronic Gift Card
Emailed gift card purchases have a minimum of $10.00, but anything
over that amount is your call (e.g. $20.15). Tell us exactly how much
you want to spend and we'll make it happen.
How to Order an E-Gift Card
Complete the E-Gift Order Form to the right.
Select "Add to Cart" to add the E-Gift Card to your order.
Continue shopping or proceed to check out.
The E-Gift Card will be delivered electronically to the receipient's email address within 24 hours.
Orders for emailed gift certificates received after 12pm (PST) on
December 24th will not be processed until the next business day.
Riding Warehouse is not open on December 25, in observance of
Christmas Day.
Dollar Value:

Email:

Message:

Frequently Asked Questions About Gift Cards
Can I redeem more than one Gift Card on an order?
Yes, you can redeem more than one gift card per order.
Can I order several Gift Cards on one order?
Physical Gift Cards may be ordered in multiple quantities on one order.
Can my Gift Card expire?
No, but we would like it redeemed in a reasonable time frame.
Can my Gift Card be shipped overnight delivery?
Yes, shipping charges will depend on your location and whether you have added additional products to your
order. Please contact Customer Service for more information.
Will I receive an email confirmation for an E-Gift Card order?
Yes, all Riding Warehouse orders receive a shipment confirmation email within 24 hours.
Can I specify how much of my Gift Card I would like to use?
No, our sales system will use available credit to pay for all products, including shipping on your order. If your
order total exceeds available credit you will be asked for an additional method of payment to cover the total cost
of your order. If your order total is lower than available credit, your remaining credit will be saved in our sales
system and available to be used on future orders.
Can I use a Gift Card to pay for my COD order?
No, gift certificates cannot be used to pay for COD orders.
Can I use a Gift Card to pay for another Gift Card?
Gift cards cannot be used as a payment method to purchase additional gift cards.
Can I use coupons or discounts on Gift Card purchases?
Our Gift Cards do not qualify for coupon codes or other discounts; however, we do occasionally offer deals on
Gift Card Purchases. Sign up on our Mailing List to stay in touch with us regarding all promotional offers!