EcoSmart Organic Horse Fly Spray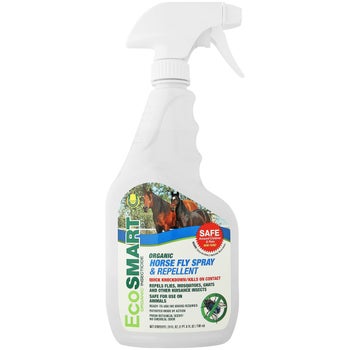 Our Price:

$16.95
MSRP: $18.95 - You Save: $2.00
We love this fantastic, effective fly spray. A new, revolutionary Green Product, EcoSMART Horse Fly Repellent Spray, is an organic fly spray that incorporates botanical natural defense mechanisms (nature's own defense) against insect attack.
An organic insecticide that is safe to use around people, horses and other animals.
Revolutionary patented blend of organic plant oils.
Quick knockdown, kills on contact and repels flies, mosquitoes and gnats.
No chemical skin irritation issues.
Fresh botanical fragrance without toxic chemical odor.

EcoSMART fights: Stable Flies, Horse Flies, Deer Flies, Face Flies, House Flies, Horn Flies, Mosquitoes, Gnats
24 oz. Spray Bottle
Ingredients: Clove oil (1.7%), Thyme oil (1.7%), Cinnamon oil (1.5%), Lemongrass oil (1.5%), Peppermint oil (1.0%).
Directions for Use: SHAKE WELL BEFORE USE. Apply evenly on entire animal with trigger spray, paying particular attention to legs, shoulders, shanks, necks, ears where flies are most often seen. Do not saturate animal. Brush lightly after application.
Other Items in EcoSmart Fly Spray
Customer Reviews
Comments: Wow does this stuff work! I was looking for something without a bunch of chemicals and gave this a try. It smells great, and you can really smell it on your horse so you know it is working. I've had other riders comment on it when riding down wind.
From: Sara - Tehachapi, CA, USA
Comments: I am always a little on guard when I cannot view a full ingredient label, wondering what else is in here causing skin reactions in horses. Second any claims to kill or knowckdown as the product claims are chemicals,pesticide,neirotoxins. Natural sprays do not kill, because they would also kill beneficial insects like honey bees, fly parasites and ladybugs. :(
From: Sierrra - USA
Comments: I really wanted to like this product. It does smell great and it seemed to keep the flies away. But all three of my horses had adverse skin reactions to it on their legs, with bumps developing, then scaling, then the hair falling out. One of them lost all the hair on the inside of both hind legs above the hock. One horse also had reactions on his neck and body. Sorry, I'll be returning it.
From: Aunna - Clarkston, MI, USA
RW Response: As mentioned in our previous response to a similar review of this product, horses can have allergic responses to a various natural or chemical ingredients, including solvents that are commonly used to help activate certain products. We recommend trying new product brands in a small area before committing to use on the full body of the horse to avoid serious reactions. If you are ever unsatisfied with your products, feel free to return them using our 365 Day Hassle-Free Returns Program and exchange for a product better suited to your needs!
Comments: I wanted to give this a try because I wasn't happy with how the Zephyr's fly spray had been working this year. Day one I only mist it on my horse and it worked really well. It was moisturizing, smelled nice, and seemed to keep the flies off. On the third day of use, he had a reaction. His belly was covered in hives and he was about ready to jump out of his skin. He had never had skin issues in the past, so I discontinued use and hosed him off and he improved immediately. I do think it worked well, it just didn't work for my sensitive skinned horse.
From: Jenny - Morgan Hill, CA, USA
Comments: My horse did react to this. We tried it twice to be sure it was the source. He broke out in hives both times.
From: Nancy - Lake Geneva, WI, USA
RW Response: Unfortunately, horses can have an allergic response to any number of specific ingredients - even natural plants that seem so much less likely to cause negative reaction than chemicals. It's hard to pinpoint what exactly causes such a reaction to a product. It should be noted this product does contain solvents that help the active ingredients work into the horse's coat. EcoSmart is currently testing a solvent-free fly spray that is not ready to market at this time. If your horse has a known sensitivity to solvent ingredients we recommend the use of Zephyr's Garden Fly Repellents instead.