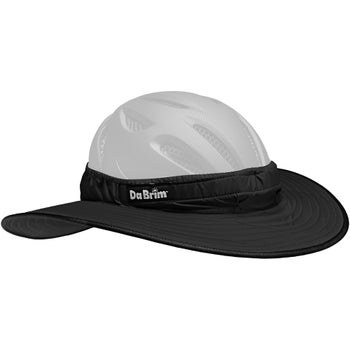 view large
DaBrim Equestrian Helmet Visor
Sale Price: $34.49 Was: $39.95 - You Save: $5.46
Tame the blazing sun with stylish curves and a flattering design. The exclusive DaBrim Equestrian Endurance Helmet Visor provides you with fantastic full sun protection and is also a fashion statement!
The DaBrim features a pocketed area for accommodation of equestrian helmets with non-removable visors. It's also a "one size fits most" product and works with all different types of helmets, with or without molded on or removable visors.
Features:
Easy Installation & Removal
No Sticky Adhesives or Complicated Rigging
Does Not Inhibit Helmet Ventilation
Maximum UPF50+ Sun Protection for Face, Neck & Shoulders
Ultra Secure Attachment - Gallop Safe!
Durable, Reinforced Construction
Lightweight & Comfortable
For more information, please see the "Product Details" tab.
Love the idea, but looking for something a little more low-profile? Check out the new DaBrim Petite Helmet Visor!

MADE IN THE U.S.A!
The unique DaBrim Helmet Visor offers practical protection for casual trail riding, competitive endurance riding, everyday outdoor excising, outdoor arena schooling, or mid-day rides in areas with intense sun.
Check out the video link just below the product image for a demonstration of the use of the DaBrim for a fast-paced trail ride!
Specs:
3 ½" Front Brim Contours to 4 ½" at Rear
Lightweight - just 5.5 oz!
Water Resistant
100% Nylon
The helmet features in the product images is the Tipperary Sportage 8500 model.
Other Items in DaBrim Visors & Accessories
Customer Reviews
Comments: Best - visor - ever! Stays on very securely and shades the back of my neck as well. What more can I say...oh, it looks great AND low price compared to others I've seen - quality beats all!!
From: Shari - Burbank, CA, U.S.A.

Comments: The Da Brim is great! I've had mine for two years. It does a wonderful job protecting me from the sun. Also ticks. Where I live, ticks are a very big problem. Any ticks that fall off trees onto your hat are shed off.
From: Mary - Amherst, VA, U.S.A.

Comments: Da Brim - great product for longriders. Used mine now on two rides - stays on no problems, light and plenty of shade under the Aussie sun. Won't damage your expensive helmet.
From: Sandra Russell - Mount Pleasant, South Australia
Comments: Only used it once so far but I love this thing! Used it first time horseback at a trail trial in Palmdale, CA with hot sun and gusty wind. It stayed put and did not flap up or down like other wrap-around visors I have used. I can tell I'll be using it all summer.
From: Jeanne Gonzalez - Valencia, California, USA
Comments: I used the DaBrim yesterday and I just loved it! It protected my face and neck from the sun perfectly. It was pretty hot and I actually felt much cooler with it on my helmet. It stayed very secure, no problem. Fellow riders asked me about it and they want one too! Great purchase!
From: Julie Gordon - Sacramento, California, USA

Comments: I love this brim!!! It throws off an amazing amount of shade. I live in Florida so sun protection and coolness is vital in all riding gear. I love the curve to the brim and have had many people stop me and ask where I got it. It is very easy to take on and off of my helmet. The only day I had an issue with it was on a ACTHA ride the day after Huricane Sandy and the winds were very high but I just popped it off, folded it in half and tucked it under the flap of my saddle bag all while riding along. Normal day to day breeze and wind doesn't bother it at all. I also bought the Tippery Helmet and love the lightness and huge vents for air flow and coolness.
From: Beth Moran - Cocoa, Florida, USA

Comments: This equestrian Da Brim is just great. I used to have to wear sunglasses in the quick changing weather conditions we have in the high country of Colorado. Now I don't ever worry about my Da Brim coming off in the wind as some visors have or my nose getting sunburned, rain hitting my eyes or the sun blinding me when on the trail.
From: Marlene E. Hopp - Guffey, Colorado, USA
Comments: Excellent protection. Keeps neck and jaw line shaded. Secure fit. Great product.
From: Trish - Powhatan, Virginia, USA
Comments: Great product! Totally protects me from the sun, and it stays on during windy conditions (mind you I live in SoCal). I get a ton of compliments on this visor.
From: Susan - Fountain Valley, California, USA
Comments: I bought this visor a few years ago. It fits on my helmet great and does not fly off in the wind or when galloping. However, I did not like the way it looked. Mine flips up in the back and looks ridiculous. It is also bigger in the Back than in the front which is another thing I don't like. It would probably be great for biking rather than horseback riding. I have quit using and have bought the Debrim visor which I totally love.
From: Barbara - Woodbridge, Virginia, USA