Buckeye Nutrition Perform 'n Win Electrolyte Powder 4lb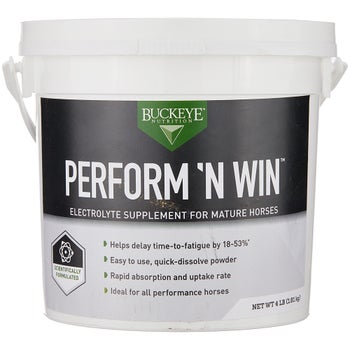 Our Price:

$15.95
MSRP: $24.95 - You Save: $9.00
Perform 'N Win Electrolyte Powder is a granular electrolyte scientifically formulated by Buckeye Nutrition for the recovery of the elite performance horse. Gentle on your horse's stomach, this performance electrolyte is the only research-based product on the market today! It can be easily mixed with water to provide optimum levels of electrolytes for optimum performance.
Features:
Research-Based Electrolyte Powder
Gentle on Horse's Stomach
Increases Muscle Recovery
Great for Competition and Trailering
Can be Used for Stress, Illness, and Deworming
For more information, ingredients, and directions, please see the "Product Details" tab.
Four-pound granular container.

MADE IN THE U.S.A!
Active Ingredients: Sodium Chloride, Potassium Chloride, Magnesium Sulfate, *Dextrose, *Sucrose, Calcium Citrate, Fumaric Acid, Citric Acid Anhydrous, Silicon Dioxide, Natural and Artificial Flavor.
*A small portion of dextrose and sucrose are included for increased palatability. The sugar contained in each serving is 50 grams or about 200 calories... this equates to just one large handful of oats in equine nutritional terms. (This information provided by the Senior Nutritionist for Buckeye Nutrition.)
Guaranteed analysis per ounce:
Sodium min. 1120 mg - 4.1%
Chloride 2600 mg - 9.4%
Potassium min. 910 mg - 3.3%
General guidelines for dosage: 1-2 ounces the night before competition, 1-2 ounces prior to starting competition, and 1-2 ounces at every vet check. Actual amount needed will depend on the level of exercise, stress, temperature, and humidity. Be sure your horse is drinking 8-10 gallons of water a day. Always best to be conservative with electrolytes and don't serve over 12 scoops of electrolytes in a day.
Feed according to the hours that your horse has worked in order to provide the right amount for the most efficient absorption into the small intestine, resulting in optimum performance from your horse. Rapid uptake into the bloodstream replaces lost electrolytes for maximum muscle recovery.
Tip: Mix with applesauce, carrot baby food, smooth yogurt (try vanilla or banana!), or whatever else your horse desires to dose by syringe.

Other Items in Buckeye Nutrition
Customer Reviews
Comments: My horse LOVES this electrolyte. I had trouble getting him to drink electrolyte water at competitions, but not with this one! I also needed to introduce beet pulp and alfalfa pellets this year, and he wouldn't touch them plain, with molasses, or with applesauce. But adding a scoop of electrolyte as flavoring worked! He's been gulping his beet pulp ever since.
From: Jennifer- Pittsburgh, Pennsylvania, USA
Comments: Maya LOVES this stuff.... No problem giving it to her in food, beet pulp, or water. Went out with a friend who told me her horse wouldn't touch Electrolytes. We had dilute solution of electrolytes and plain water available, he immediately choose the Perform and Win.
From: Elizabeth - St. Louis, MO, USA

Comments: My horse LOVES this electrolyte during endurance rides. It is palatable and doesn't burn like some other brands. I mix it with his beet pulp but also have an "e-cookie" recipe made with Perform'n Win that keeps my horse happy as we move down the trail.
From: Ashley - Flagstaff, AZ, USA